The Laurel Valley Firewise committee was formed in 2017 and began plans for making Laurel Valley a certified Firewise community. The committee's work resulted in creating a plan which was submitted and approved in 2018 by the NFPA's Firewise USA program, a program which teaches people how to adapt to living with wildfire and encourages neighbors to work together and act now to prevent losses. The Firewise USA® program is co-sponsored by the USDA Forest Service, the U.S. Department of the Interior, and the National Association of State Foresters.
 
The specific goal of the Laurel Valley plan is to make the residents, homes, and other valuable community infrastructure safer from wildfire. Objectives of the Laurel Valley plan:
Establish a prioritized list of actions for the community to work on.
Reduce the amount of flammable vegetation around structures and other community infrastructure thereby creating defensible space.
Decrease the likelihood that structures can be ignited by embers and other methods of ignition through education and activities undertaken.
Continue to promote a community prevention and preparedness education program.
The Laurel Valley Fire Safety Guidelines and Community Wildfire Protection Plan documents are available below.



In the event of a fire in Laurel Valley -- Call 911!
If you are a renter, be sure you know the street address.
We encourage you to evaluate your location and the exit route from Laurel Valley now so that you will be prepared should a wildfire occur. Click the map below to produce a larger image or download the attachment below.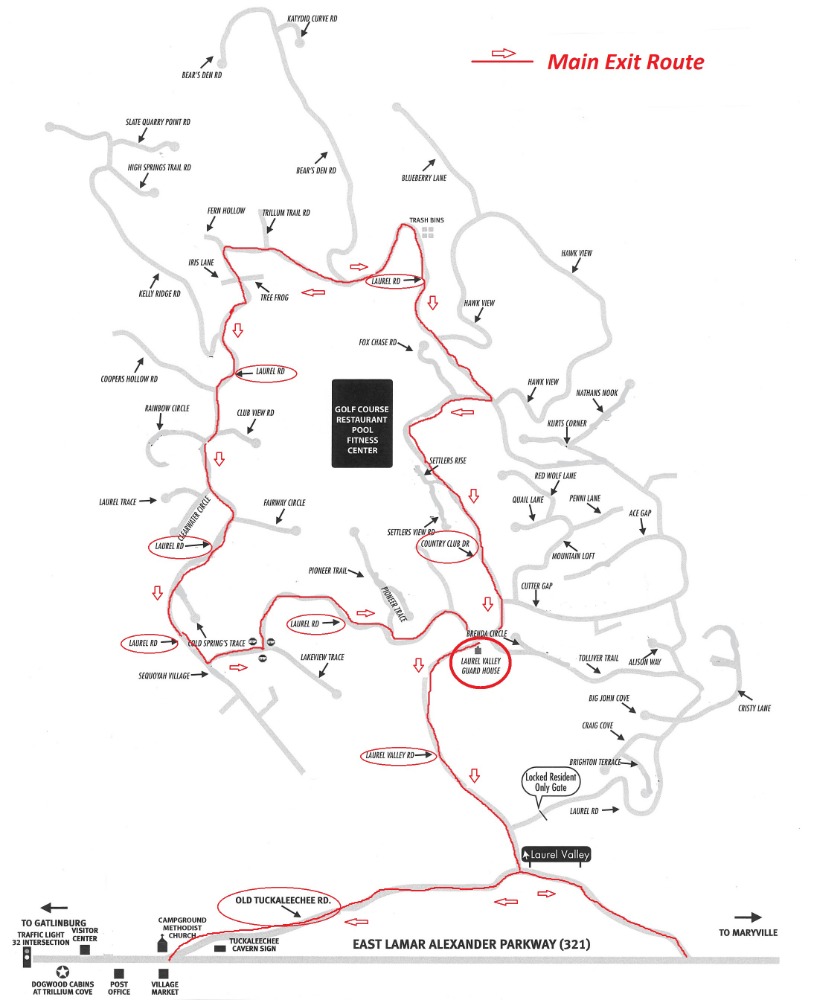 Tips for making your home more Fire Safe
Every year, wildfires burn across the U.S., and more and more people are living where wildfires are a real risk. Nearly 45 million homes abut or intermingle with wildlands and more than 72,000 U.S. communities are now at risk. By working together residents can make their own property - and their neighborhood - much safer from wildfire.

These documents from the National Fire Protection Association can provide additional information:
7 Ways Residents Can Reduce the Risk that their Homes & Property Will Become Fuel for a Wildfire
Wildland Fire Safety - Action Steps for your Home

Emergency Preparedness Checklist for Pets 

We are a community that loves our pets. Emergencies come in many forms, and they may require anything from a brief absence from your home to permanent evacuation. Each type of disaster requires different measures to keep your pets safe, so the best thing you can do for yourself and your pets is to be prepared.

These lists offer ways to prepare so that you can keep your pets safe:
Wildfire Preparedness for Household Pets
ASPCA Disaster Preparedness
CDC Pet Safety in Emergencies

You can contact the Firewise Committee via email at: [email protected].