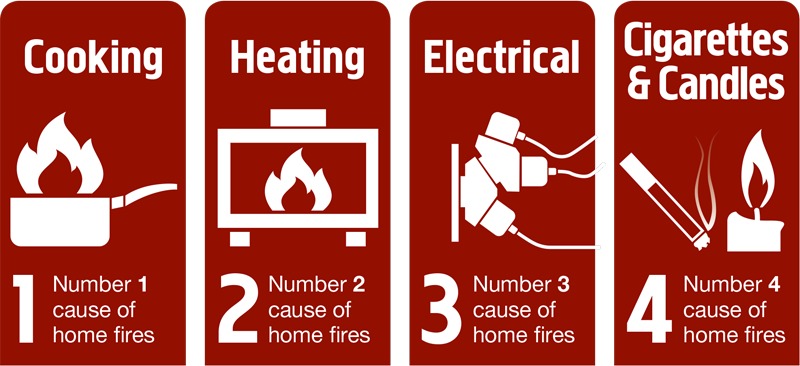 Laurel Valley is a neighborhood nestled in the Great Smoky Mountains. We are lucky to be in a beautiful wooded community, blessed with much diversity in flora and fauna. But because we are in a rural mountain area, we need to be extra cautious and do all we can to prevent a wildfire such as the one that destroyed homes and lives in Gatlinburg in 2016. In order to prevent a wildfire, the following rules should be followed by everyone in Laurel Valley.
In case of a fire, call 911. If you are a renter, be sure you know the street address.
Make sure you never leave cooking food unattended. Note that According to the NFPA, cooking is the leading cause of residential fires.
It is recommended that no fireworks be ignited within Laurel Valley because of the dangerous fire hazard they present. Check local listings for info about public fireworks display during Fourth of July holiday.
Do not dispose of cigarette butts outside. This includes throwing them out of a car window or off the deck. A single cigarette butt has been known to cause forest fires that destroyed homes and lives - both humans and wildlife. Extinguish smoking materials thoroughly to prevent butts and ashes from igniting other materials. Douse smoking materials under water.
Never leave any fire unattended, not even for a second. This applies to fires wherever they are, whether at a home, in a park, in an open field, beside a lake or a River — and includes a fireplace, a campfire, or even a candle.
Keep anything flammable at least 3 feet away from your fireplace or wood stove. If you have to leave the house, make sure the fire is completely out before you go.
Dispose of any live charcoal or hot ashes from grills properly. They should never be tossed in the woods!
Do not put live coals or hot ashes in the trash compactor or recycling bins.
Do not burn candles outdoors.
If using an extension cord outdoors, be sure it is approved for outdoor use and is not frayed or damaged.
If the Extreme Fire Hazard sign is posted at the Guard house or at the back gate, these additional rules apply:
Any fire in Laurel Valley will be difficult if not impossible to extinguish before it destroys property and wildlife habitat. It could also potentially spread from here into the rest of the community of Townsend and/or into the Great Smoky Mountains National Park.

We encourage you to evaluate your location and the exit route from Laurel Valley now so that you will be prepared should a wildfire occur. We have supplied a very general map you may use with the evacuation plan outlined in red.